Equine Wellness Services
Wellness Examinations for Equines
Horses can be expensive to own and maintain. Protect your investment and your horse's health with comprehensive wellness care from TFB Equine.
We provide a range of services with a special focus on the Thoroughbred racehorse. Veterinarians at TFB Equine are experienced in treating the most common injuries that affect the racehorse including upper airway issues, lameness issues and general poor performance and gastrointestinal issues.
The determination of which treatment venue is the most appropriate for your horse's case is made through a consultation between your veterinarian and you. It is the goal of TFB Equine to make healthcare decisions that are in the best interest of your animal and ensure the best service to you.
Vaccine Protocols for Maximum Protection
Vaccinations are the number one way you can protect your horse from deadly infectious diseases. While there are many equine vaccines available, not every horse requires the same series or frequency of vaccines. At TFB Equine, a veterinarian will determine a vaccination protocol based on your horse's lifestyle, age, geographic location, and other risk factors affecting exposure to disease. The goal is to maintain optimal health and protection while not over-vaccinating.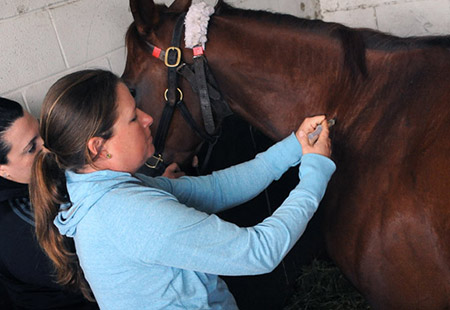 Core Equine Vaccines
Influenza/Rhinopneumonitis
Encephalitis (EWE - Eastern and Western)
West Nile Virus
Tetanus
Rabies
Potomac Horse Fever (in mid-Atlantic states)
Botulism (in mid-Atlantic states)
Many combination vaccinations are available. Please check with a veterinarian for the appropriate vaccinations that are the best and most cost-effective. A program designed with the help and advice of a veterinarian will keep your horse healthy for many years to come.
Targeted De-Worming Protocol
We encourage a fecal egg count four times per year to identify those horses that may have developed resistance to de-wormers. By targeting only those horses that need to be de-wormed, we can reduce de-worming frequency, thereby reducing parasite resistance.