Equine Surgery
Equine Surgical Services
The veterinarians and medical team at TFB Equine do all we can to prevent the need for surgery. However, there are times when surgery is in the best interest of your horse. If that time should arise, we want you to feel confident entrusting the surgical team at TFB Equine with your horse's health.
Whether your horse requires a more routine procedure such as castration or wolf tooth removal or a more complex surgery like hernia repair, we work hard to ensure each surgical procedure is completed according to the highest surgical standards and is as stress-free as possible for you and your horse.
Surgeries we perform include, but are not limited to, castrations, laceration repairs, myectomies and more. For questions about a specific surgery for your horse, please give us a call.
Anesthesia
Ensuring the health and safety of your horse during surgery is our utmost concern and requires an anesthetic and monitoring regimen that adheres to the highest principles and ideals of quality care. We use a multi-parameter monitoring and anesthesia system to ensure your horse's safety during all surgeries.
Prior to undergoing anesthesia, your horse receives a thorough examination. The results of this exam, plus age and preexisting conditions, are used to create an individualized anesthesia protocol.
During surgery, your horse is carefully monitored using state-of-the-art monitoring technology which tracks blood pressure, heart rate, body temperature, and oxygen level.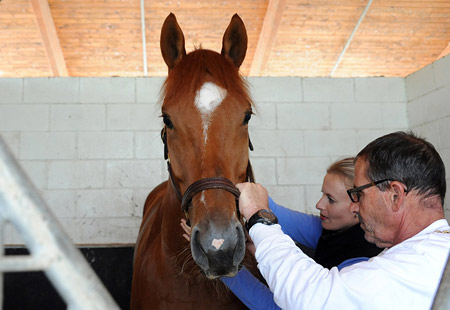 Postoperative Care
Attentive and skilled care following surgery is vital for your horse's safe recovery. Upon completion of all surgical procedures, trained staff continue to diligently monitor and care your horse. When it is time for your horse be discharged, you will be provided with comprehensive information regarding continued postoperative care, including instructions regarding medications, feeding and bandaging materials.
Pain Management
We all know that pain hurts, but pain also has many other detrimental effects on your horse's body. Pain slows healing, causes stress, decreases activity, affects metabolism and causes behavioral changes such as aggression, anxiety, and depression.
For your horse's comfort and well-being, the equine veterinarians at TFB Equine practice the most up-to-date and comprehensive pain management protocols. For acute and chronic conditions, we use all our available and safe resources, including NSAIDs (non-steroidal medications), corticosteroids and oral and injectable analgesics for your horse's complete comfort.