About TFB Equine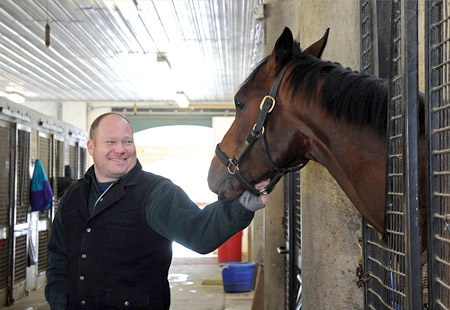 About TFB Equine
The veterinarians and medical support team at Teigland, Franklin and Brokken, DVM's, Inc. understand the unique treatment needs of thoroughbred racehorses. Since 1946, we have strived to help equine athletes reach their full potential. In the decades since, TFB Equine has expanded from its original base in Ft. Lauderdale, FL to serve horses in Delaware, Maryland, New York and Kentucky.
Drs. Scott Hay, Luis Castro, Tom Reid, Sara Langsam, Bonnie Comerford, Luis Benitez, Tim Delatte, Martine Rodgers, and April Downey are the current shareholders of the company.
Where State-of-the-Art Technology Meets Old-Fashioned Care
TFB Equine strives to provide the latest technological and medical protocols while ensuring that you are informed and have a voice in the care of your horse. By understanding your horse's healthcare options, we believe you are able to make choices that best suit your horse's needs. It is the practice's goal to combine the latest in modern veterinary care with old-fashioned personal care and customer service. We have invested in the latest diagnostic technology and recommend many of these tests for the long-term well-being of each patient. As we continue to operate, we will enhance diagnostic capabilities to help improve each patient's life.
TFB Founding Fathers
We would like to pay tribute to the founding fathers of TFB Equine who made all of this possible. Special thanks to Dr. M. B. Teigland (left), Dr. Thomas D. Brokken (center), and Dr. Benjamin Franklin Jr. (right). Due to their remarkable efforts, TFB Equine has become what we know today.
Associations
We are active members of the American Association of Equine Practioners (AAEP), the Florida Association of Equine Practioners, the American Veterinary Medical Association, Florida Veterinary Medical Association, the American Academy of Veterinary Acupuncture and the American Veterinary Chiropractic Association. And have members serving on the Grayson Jockey Club Foundation.
Equine Pre-Purchase Examinations
In addition to the general care provided to the racehorses, our veterinarians perform pre-purchase examinations for prospective buyers of yearlings and two-year-olds at the annual sales held in Miami and Ocala, Florida; Keeneland in Lexington, Kentucky; Timonium Sale in Maryland and Saratoga Springs, New York. We also travel within the U.S. and abroad to serve clients who request assistance.
Advanced Equine Veterinary Medicine
We are passionate about providing clients with state-of-the-art equine veterinary medicine and unparalleled customer service, while maintaining a decades-long tradition of doing so with the highest ethical standards. From pre-purchase examinations to surgical care, an experienced team of veterinarians is here to care for your horse and help them perform to the best of their ability.
Contact Information
General Client Care Center (Monday – Friday, 8 a.m. – 4:30 p.m.)
(954) 680-5886
Fax:
(954) 680-5976
Florida Emergencies:
(954) 680-5886
Mid-Atlantic Emergencies:
(410) 392-2377
New York Emergencies:
Please call your current veterinarian (see below).
On-Site Racetrack Service
With 18 veterinarians on staff, TFB Equine is able to provide your equine with on-site veterinary care. We offer services at the following locations:
Florida

Calder Race Course
Gulfstream Park
Palm Meadows Training Center
Palm Beach Downs Training Center
Payson Park Training Center
Tampa Bay Downs

Kentucky

Mid-Atlantic Region

Delaware Park
Fair Hill Training Center

New York

Saratoga Race Course
Belmont
Aqueduct

Florida Veterinarians:

| | |
| --- | --- |
| Dr. Luis Benitez | 443-553-2870 |
| Dr. Tom Brokken | 954-732-2007 |
| Dr. Luis Castro | 954-732-2005 |
| Dr. Bonnie Comerford | 954-732-2002 |
| Dr. Tim DeLatte | 954-732-2849 |
| Dr. S. James Fukuda | 954-732-1777 |
| Dr. Scott Hay | 954-732-2003 |
| Dr. Martine Rodgers | 954-732-2010 |
| Dr. Jackie Shellow | 954-732-2009 |
| Dr. Bruce Solomon | 954-732-2011 |
| Dr. Drew Upright | 954-732-0331 |

Mid-Atlantic Veterinarians:

| | |
| --- | --- |
| Dr. Erika Jo Beck | 954-732-0894 |
| Dr. S. James Fukuda | 954-732-1777 |
| Dr. Lydia Hamilton | 954-732-7518 |
| Dr. Tom Reid | 443-309-6850 |

New York Veterinarians:

| | |
| --- | --- |
| Dr. Luis Castro | 954-732-2005 |
| Dr. April Downey | 954-732-6813 |
| Dr. Tim DeLatte | 954-732-2849 |
| Dr. Sara Langsam | 954-732-2001 |
| Dr. Heather Tillson | 954-732-0083 |